What is Kraunchasana (Heron Pose)?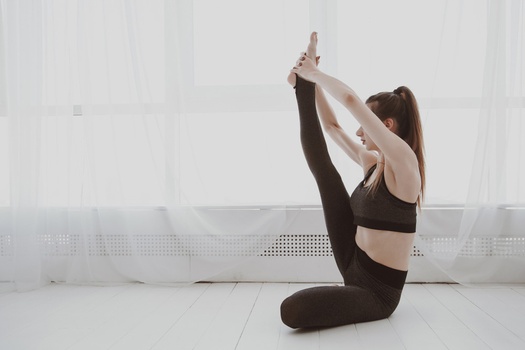 Krounchasana, or Heron Pose, is a seated yoga asana that is part of the modern yoga exercise family, and it helps to stretch the glutes, hamstrings, and calves all at once. 
You need a higher level of leg flexibility to get into the Heron pose, so it's considered an intermediate-to-advanced level yoga pose. 
In the Heron pose, one leg is placed on the ground in the Hero pose, and the other leg is flexed upward close to your face. The leg that is flexed straight upward is held with both hands, so Krounchasana also helps activate your shoulders as well. 
Krounchasana has similar benefits to the Seated Forward Bending pose – Paschimottanasana – but the intensity and flexion in the legs is much higher in the Heron pose.