The best yoga positions for back pain involve bending, twisting, and stretching your spine and back muscles. The right yoga moves will release tension from your back and relax aching muscles, giving you much-needed relief. Here are a few yoga exercises for back pain you can try:
1. Cat-Cow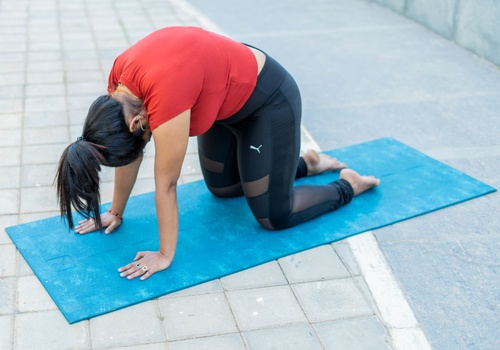 This beginners pose is safe and easy to practice at home to relieve low, middle, and upper back pain.
Start with your hands and knees on the floor. Inhale and look up, lifting your chin and gently arching your back. As you exhale, drop your chin and look down toward your naval as you curl your spine forward. Continue this movement 5-10 times.
Cat-cow helps stretch and lengthen your spine, improving mobility and flexibility while reducing tension.
2. Downward-facing Dog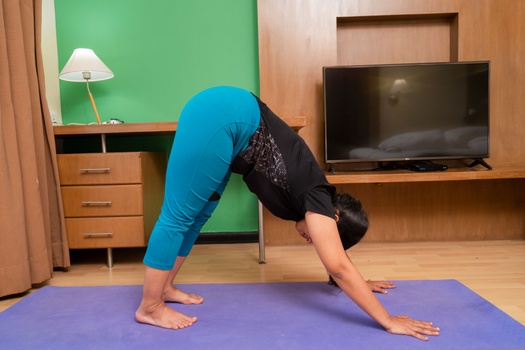 From cat-cow you can move into Downward-facing dog, which is one of the best yoga stretches for lower back pain.
With your hands and knees on the floor, push your hips upward until you are balancing on your hands and feet, and your body resembles an inverted "v" shape. Reach your heels toward the floor, stretching your hamstrings and activating your thighs. Keep your head between your arms, lengthening your side-body as you stretch. Stay here for several breaths.
Downward-facing dog is an effective pose for relieving lower back pain, by stretching hamstrings and calves, and lengthening the muscles in your torso
3. Spinal twist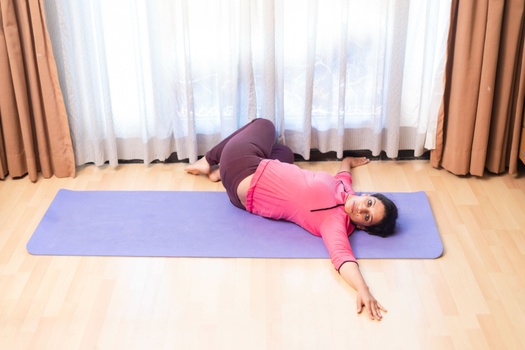 This gentle yoga pose gives your back muscles a soft twist, and it's easy to practice whenever your back feels stiff. This is one of the best yoga poses for middle back pain.
Lie on the floor with your knees bent and bring them to your chest. Slowly and mindfully drop your left side while extending your arms outward in a "t" shape. Hold this pose for about 30 seconds while breathing mindfully. Bring your knees back to your chest, and then repeat on your right side.
This easy twist helps restore mobility and flexibility in your back muscles, and it stretches your spine.
Yoga Sequence for Back Pain
Mountain Pose

Standing forward fold

Downward Facing Dog

Plank pose

Sphinx pose

Cat-Cow

Bridge pose

Spinal twist

Seated forward fold

Corpse pose