Yoga for Beginners
Whether you have recently begun taking yoga classes, or you're just thinking about practicing yoga, there are many options available for getting started on your own personal yoga journey. No matter your age, body type, or physical ability, yoga is a great way to achieve balance and vitality in both mind and body. All you need is a yoga mat to get started!
If you're a newbie and you'd like to learn some basic yoga stretches for beginners, here are a few basic postures you can try.
1. Mountain pose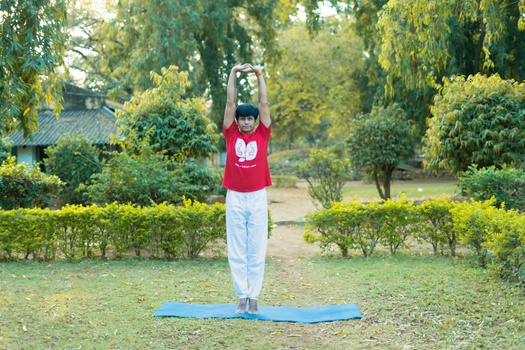 Mountain pose is one of the primary foundational standing yoga poses for beginners, and it's used in many different types of yoga.
Stand at the front of your mat with your feet hip distance apart. With your arms at your sides, open your chest, keeping your head perfectly balanced with your chin parallel to the floor, and your gaze fixed forward. Widen your collar bones and keep your weight balanced evenly across both of your feet. Soften your gaze and breathe mindfully for 1-2 minutes.
Mountain pose builds strength and awareness, and it helps ground you in both body and mind. While it's a very simple pose to perform, it can actually help improve your posture.
2. Downward Dog pose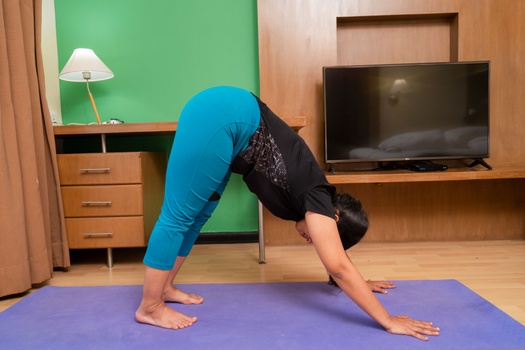 Downward Dog is another one of the primary yoga poses for beginners, and is often practiced many times throughout a typical yoga class.
Start in a tabletop position, with your hands and knees on your mat. Push up from your hands and knees, lifting your hips until you are balanced on your hands and feet, with your body resembling an inverted "v." Keep your head in between your arms, ears balanced over your shoulders, and stay in this pose for several breaths.
The Downward Dog pose stretches your hamstrings, calves, Achilles tendons, and releases tension in your lower back. This pose also helps blood circulate throughout your body.
3. Warrior II pose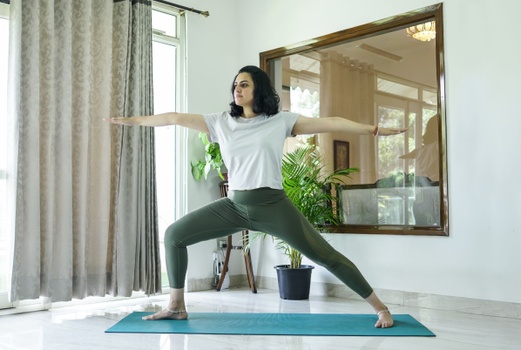 There are three types of Warrior poses in yoga, and Warrior II is one of the best yoga positions for beginners.
Step your right foot forward on the mat with your toes pointed forward and your right knee bent. Your left foot will stay behind you, perpendicular to the mat. Keep your hips squared and arms stretched over your front and rear legs, distributing your weight evenly between both legs. Stay in this pose for 5-6 breaths.
Warrior II strengthens the glutes and quads, providing support to the muscular structure around your knees, as well as throughout your legs.
Yoga Sequence for Beginners
Mountain pose

Downward Dog

Warrior II

Tree Pose

Standing Forward Fold

Cat-Cow pose

Seated Twist

Child's pose

Butterfly pose

Corpse pose