What is Anjaneyasana (Crescent Moon Pose)?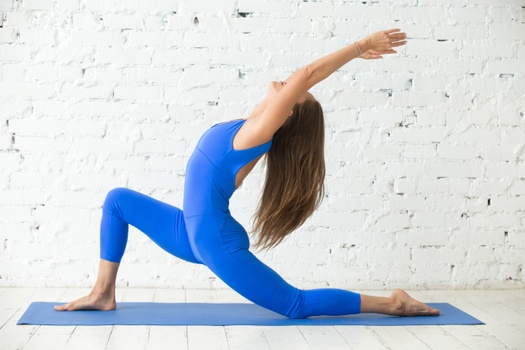 Anjaneyasana, or Crescent Moon Pose, is a standing low lunge position that opens the legs, pelvis, chest, and spine. It's used as a post-workout pose to relax the entire body or to improve your body posture. 
To get into this pose, one leg is stretched behind you on the mat, with your knee resting on the ground. Your other leg is placed between your hands, making an angle of 90 degrees with a bent knee. By extending your arms overhead, your spine is flexed to open your chest muscle, and creating a shape like a crescent moon. 
The Crescent moon pose is also used as a variation of the Equestrian pose in the Surya Namskara flow. This posture helps improve overall body balance, stability, and focus.